So, we've posted this to the site, SOE forum, and twitter, and now here on the blog. I feel like I should be wearing a checkered suit and working at a used car lot promoting this, but I know a few of you have been asking about signed copies and mail order deals so here goes....
The Megaton Mail Order Bundle
Get it for just $
79.99
+shipping
Total Bundle Value $137.51 You Save $57.52
This is it! Everything you need to start running The Mutant Epoch Role-Playing Game!
Get it all in one box! This set includes a stack of our books, 32 game sheets, bookmarks, a pencil, set of polyhedron dice and a limited

edition, hand pulled, hand painted, signed, polyhedron dice lino print. In addition, you also get a PDF copy of the Hub Rules, or any other book

in our line instead, delivered electronically as soon as we get your order so you can get started right away!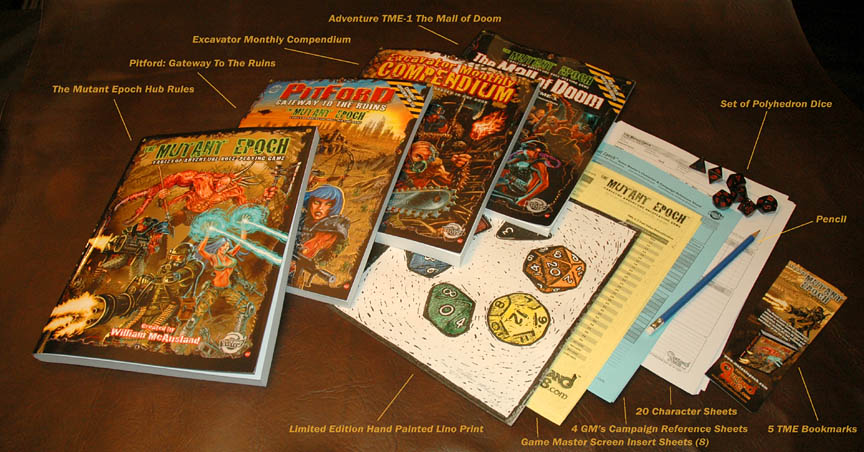 The Megaton Bundle Includes:




►

The Mutant Epoch RPG Hub Rules signed and sealed by the author




►

The Mall of Doom adventure TME-1




►

Pitford: Gateway to the Ruins


► Excavator Monthly Compendium


►

20 character sheets




►

GM sheet screen inserts (8 sheets*)

How used?




►

4 GM's Party reference sheets




►

5 TME bookmarks




►

Pencil




►

Set of polyhedron dice

See them here


►

Limited edition, hand pulled, hand painted, signed, polyhedron dice lino print.

See it here


►

Free PDF of any book in our line**
* 8.5 x 11" sheets for attaching to a homemade GM screen or insertion into the popular Hammerdog's double-sided folding vinyl GM screen
** Sent the first business day your order arrives, allowing you to check out the rules while you wait for the delivery of your physical books.
Already got the PDF, then let us know of another title we carry and we'll substitute it!
Postage rates to the following countries or regions are as follows:
To USA add $29.02+79.99 CAD = $109.60 USD (parcel takes about 5 days and is insured)

To Canada add 18.00+79.99 CAD = $97.99 CAD

To UK add $50.78+79.99 CAD = £82.10 GBP

To Australia add $56.15+79.99 CAD = $131.77 AUD

To Europe add $56.15+79.99 CAD = €102.45 EU

Other international orders add $56.15+79.99 CAD = $136.14 USD
Please use the total price (shipping +79.99 CAD as shown above) for your country or region. Purchases can be made using
paypal with funds sent to info@outlandarts.com or send a check or money order payable to:
Outland Arts
1860 Lodgepole Drive
Kamloops
British Columbia
Canada
V14 1X8
What a deal! The four books contained in this set retail at $96.96 alone. At $79.99 you already save $16.97 before all the other extras are added in! We only keep a limited supply of inventory at our game design studio so order your box today!